Trans Siberian Pit Stops Reading List
The Trans Siberian Railway, constructed at the turn of the twentieth century, connects western Russia with hundreds of cities in Siberia, China, Mongolia, and North Korea. An adventure for some, the journey across seven time zones and thousands of kilometers can also be a tiring, dreary, and monotonous experience. The lengthier stops at stations along the route are welcome moments of respite, but nearly all lack landmarks, visitor centers, or even enclosed kiosks accessible to passengers in the limited period of time available to them off the train. The following books sample subjects including microarchitecture and the history of the Trans Siberian Railway, to suggest a range of topics one might consider when designing for rest stations along the world's longest train line.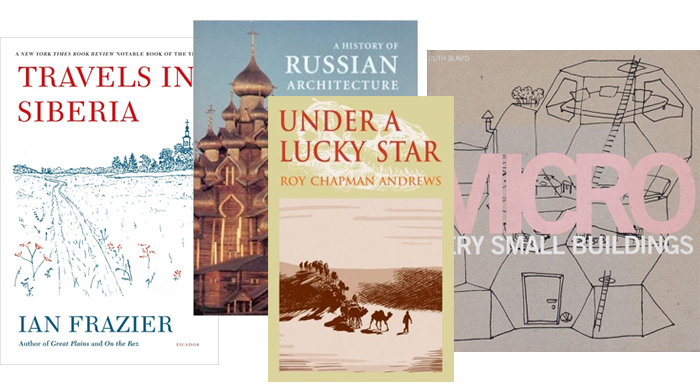 Micro: Very Small Buildings, Ruth Slavid
Find on Amazon

This publication is a survey of small projects from around the world. 53 case studies are categorised into five chapters - Public Realm, Community Spaces, On the Move, Compact Living, and Extra Space - and example projects are as varied as Miele Space Station, an architectural installation in Rotterdam made completely of washing machines, and Park Bench House, a bench-turned-nighttime-homeless shelter designed for a public park in Australia.


Travels in Siberia, Ian Frazier
Find on Amazon

Frazier's account of his personal adventures through Siberia by car in the early 2000s is intertwined with a rich history of this vast region, which covers the northern third of Asia. From descriptions of small towns, to that of the highway and the people he meets along it, Frazier's book offers great insight into the character of this otherwise cold and remote landscape.


A History of Russian Architecture, William Craft Brumfield
Find on Amazon

A History of Russian Architecture presents the unique characteristics of Russian buildings and discusses the global influences which have shaped the trajectory of Russian architecture from the Byzantine Empire in late antiquity, to modernity. This survey offers both a chronicle of changing stylistic and technical elements in Russian architecture, as well as a thorough cultural history of the world's largest country.


Under a Lucky Star, Roy Chapman Andrews
Find on Amazon

This autobiography recounts the famed 1920s explorations of the archaeologist and director of the American Museum of Natural History, Roy Chapman Andrews. The book covers in particular his expeditions to Central Asia and the Gobi Desert, where he journeyed through previously-uncharted landscapes, and discovered important reservoirs of dinosaur fossils. Andrews' stories of exploration discuss architectural as well as natural wonders.


Do you have additional suggested books that relate to this topic? Submit your ideas to Bee Breeders here!