Shipping Containers: Re-Purposed But Never Redesigned
Cargo containers are a common sight at construction sites all over the world. The revolution of containerisation changed the shipping industry, allowing cargo to be moved from land to sea to land again without a large crew of men needed to move each item individually. Cargo containers have since become a regular sight at shipping ports, on trains, trucks, and on a smaller scale, on airplanes.
In more recent years, used construction containers have been re-purposed in all manner of ways, from housing, to retail outlets, to restaurants. Through all that though, the design of the cargo container has remained pretty much the same, no matter what it's being used for.
Shipping containers re-purposed as housing
Cargo containers are a great resource for innovative homes. Ranging from 20 to 30 feet in length, cargo containers are both flood and fire-proof, and with an estimated 24 million decommissioned shipping containers in the world, they're a plentiful resource for creating new, sustainable homes.
Containers of Hope, Benjamin Garcia Saxe
Created by architect Benjamin Garcia Saxe, Containers of Hope was constructed for just US $40,000. Consisting of two 40-foot shipping container, this affordable home was designed with a slanted roof that lets sunlight in while also letting hot air escape. The rural home is located 20 minutes away from Costa Rica, and was designed for a couple looking to create a rural home without putting themselves in debt.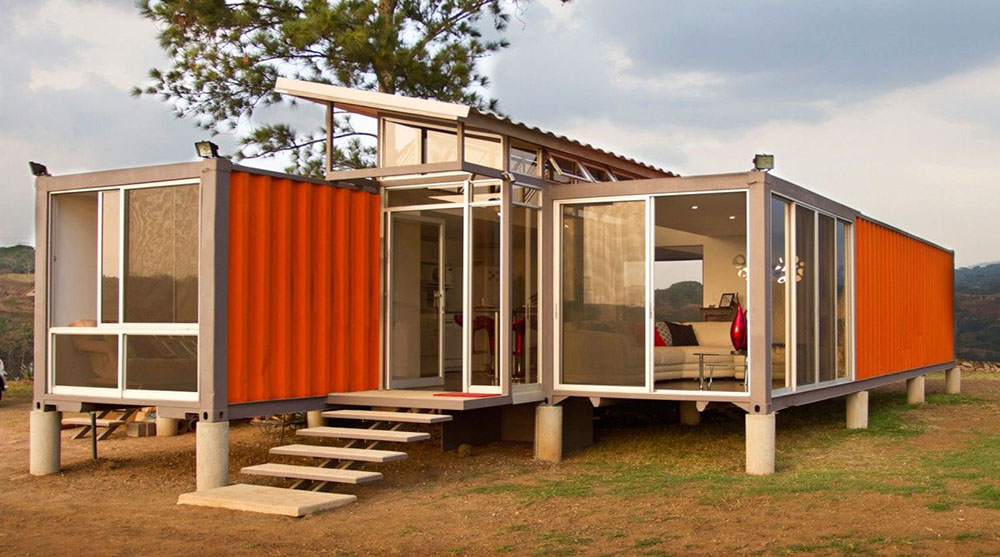 The Caterpillar House, Sebastian Irarrazaval
Constructed on a hillside outside of Santiago, Chile,the Caterpillar House was designed by Sebastian Irarrazaval from 12 shipping containers. Designed for a family, the Caterpillar House was constructed on a reasonable budget, despite its luxurious aesthetic. The facade is ventilated and arranged as such to allow naturally cool mountain air to act as a passive cooling system, and eliminate the need for costly electronic cooling.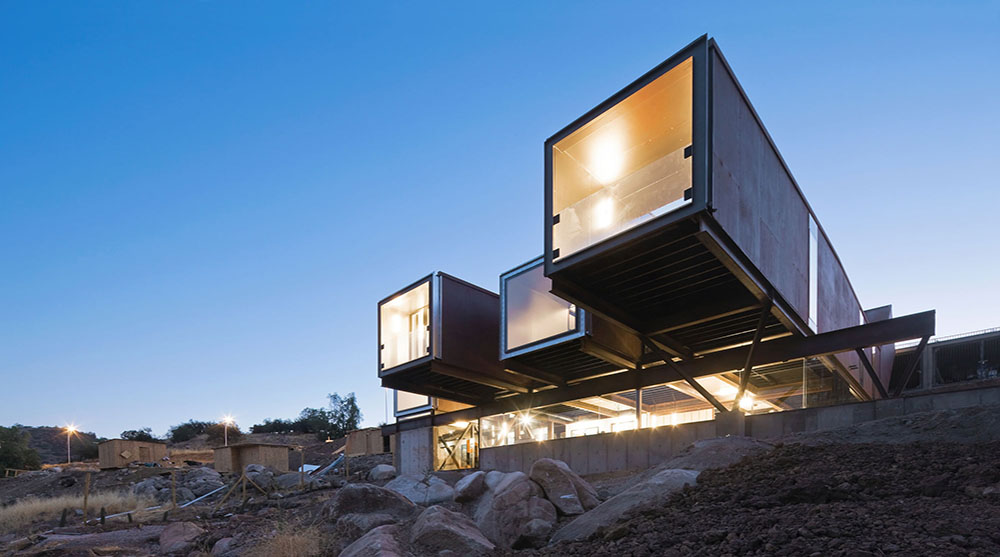 Ecuadorian Container Home, Daniel Moreno Flores and Sebastian Calero
Architecture's powerhouse couple Daniel Moreno Flores and Sebastian Calero designed this Container Home in Pichincha, Ecuador. A total of eight shipping containers were used, one 40-foot container and seven 20-foot containers. This expansive private home is made up of individual modules, and can be disassembled and transported quickly and easily should the owner's ever fancy a change of location.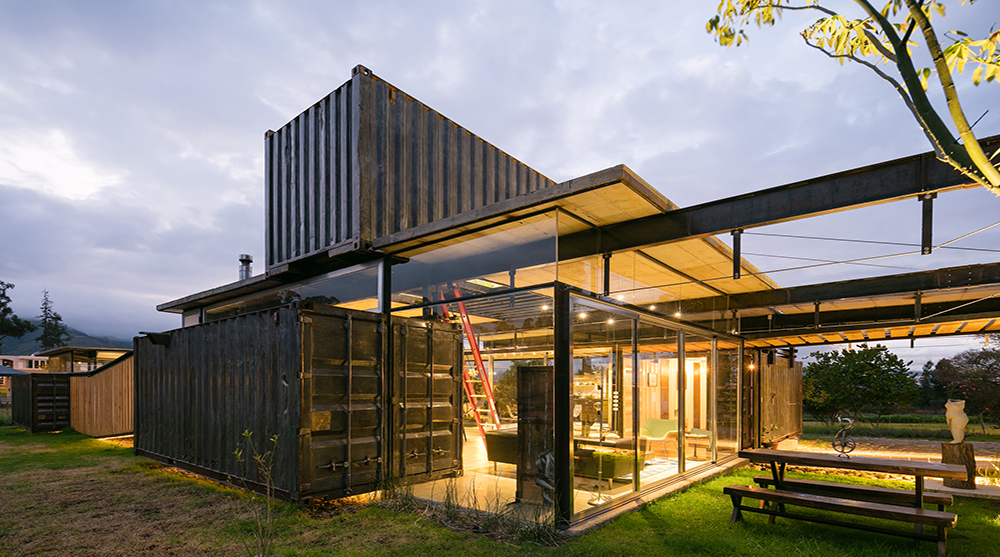 Shipping Containers re-purposed as retail outlets
In addition to being incredibly cost-effective and being easy to assemble and transport, shipping container architecture has the added advantage of being incredibly trendy. Major brands, retail parks and pop-up stores all benefit from using construction containers to create the facade of their retail outlets.
Boxpark, London
Originally conceived by London-based creative Roger Wade, Boxpark was established in 2011 as a temporary shopping centre in Shoreditch, East London. Designed by British practice Waugh Thistleton Architects, this premier 'pop-up mall' was constructed of shipping containers and positioned within a former railway goods yard (you can't get much more hipster than that!). Still a popular attraction to this day, the success of the Boxpark concept is clear and a second site was developed in Croydon, South London.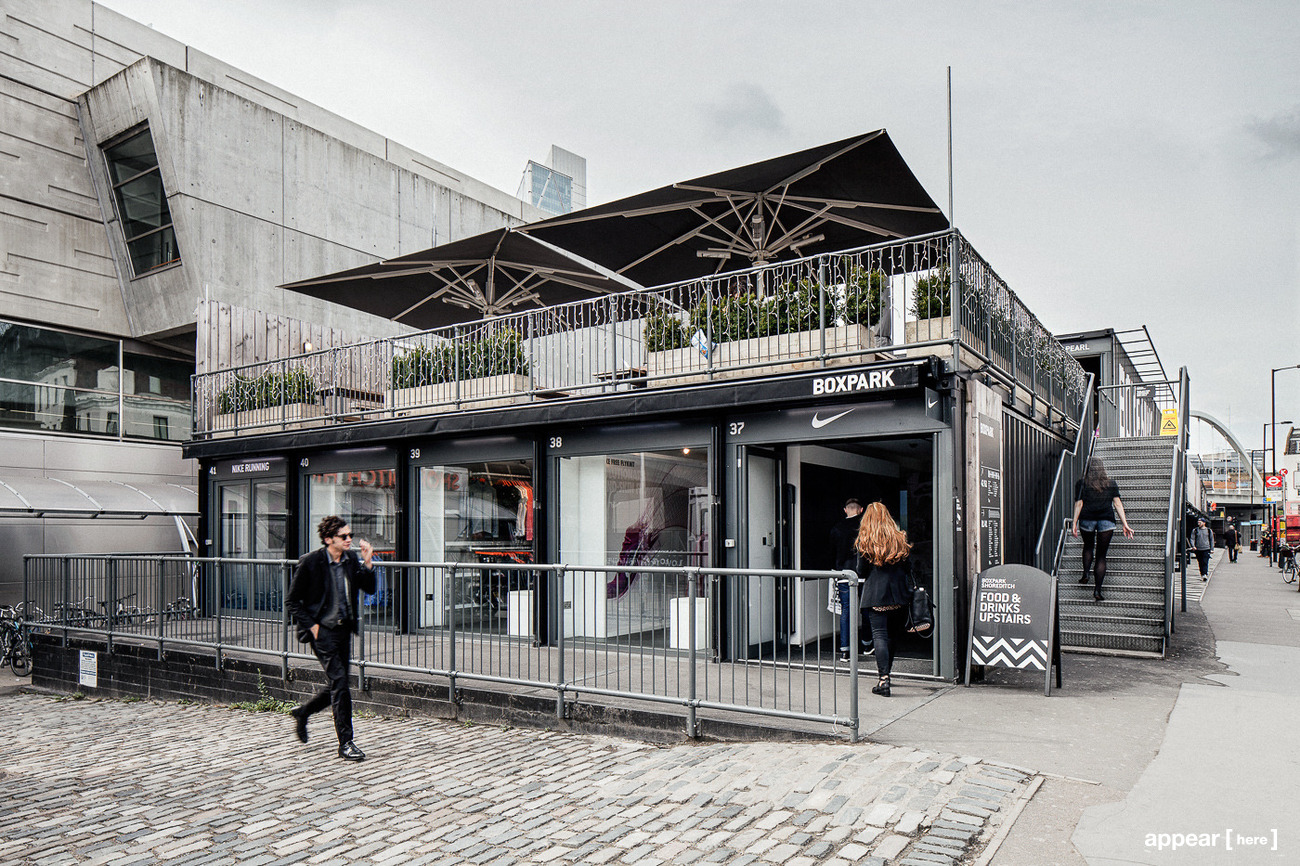 Foghound Interactive Coffee Shop, Johannesburg
Designed by Earthworld Architects & Interiors, the Foghound Interactive Coffee Company's flagship store in Johannesburg is a two-storey building that houses a public cafe, showroom and office for the company's staff. Constructed from stacked and cantilevered shipping containers, the ground floor features two containers adjoined to form the public coffee shop with floor-to-ceiling glass windows and doors to maximise sunlight.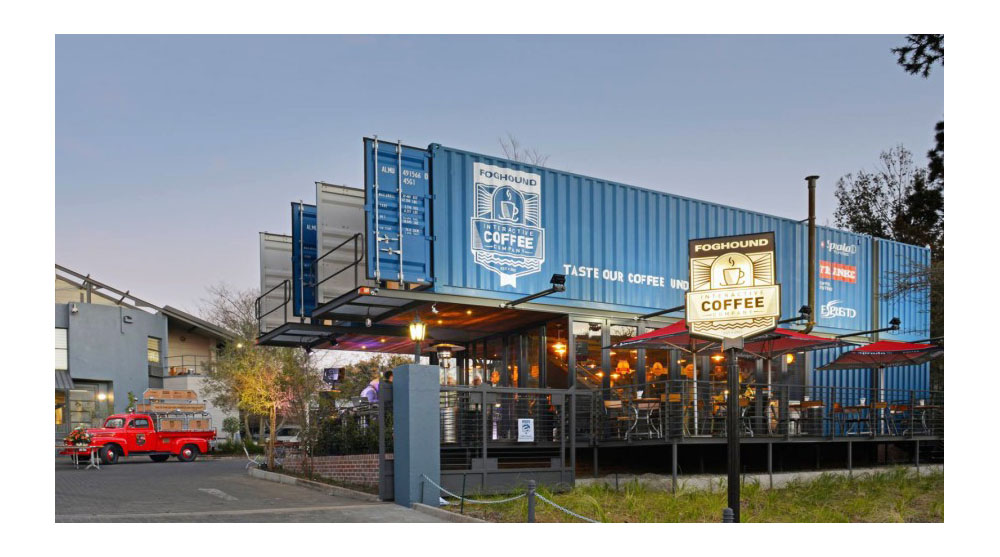 ChiChi4U burger cafe, Poland
Designed by Mode:lina, this hip burger café was constructed as a pop-up restaurant in the heart of the Poznan University of Technology in Poland. Created as a secondary location for the restaurant chain, the cozy yet industrial chic interior was designed by the local studio and appeals to its student client-base. The owners of the late-night 70 metre square space asked to create "recognizable raw and industrial aesthetics," which informed the design decision for black corrugated steel walls and paneling. In addition to its decorative value, the steel panels are also highly durable, washable, and allow quick adaption to the old walls and electrical layout.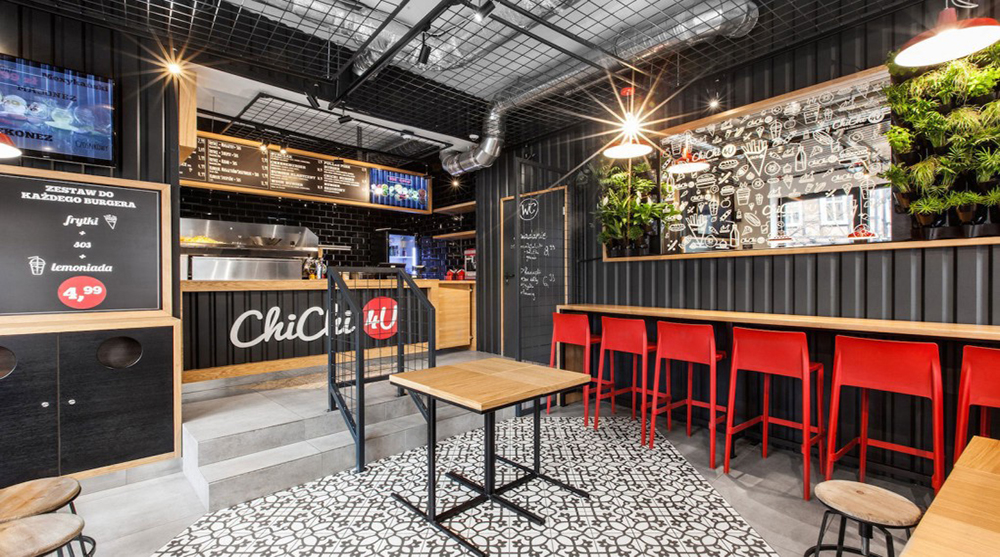 Shipping containers redesigned
Considered to be a low-cost, trendy, and versatile resource, shipping containers have been re-purposed for years in various different settings. However the containers themselves have not shown much variation at all when used for their originally intended purpose.
The Construction Container Facelift competition, in partnership with VUDIS modular unit manufacturer, is calling on designers to find creative solutions to tackle this global problem at its core. Participants are tasked with neutralising the negative visual impact of the construction containers on cityscapes by tapping into the containers' surfaces as an unclaimed resource for enhancing the city. Turning a negative into a positive and improving the city visually and perhaps even functionally.