Luxurious Barn Re-Developments
Those looking to relocate to the quieter, country life, often have large architectural plans for their new rural homes. A popular format is to redesign a country barn into a modern, family home. A barn, with its implicit integrity and economy, is a proud silhouette of the past—its proportions and materials command respect, even reverence. By adding certain architectural features and upgrading the interior, a country home can be both modern and in keeping with its rural surroundings.
IN THE ORGANIC DAIRY FARM, AT MARTHA'S VINEYARD, USA
Massachusetts-based architect Mark Hutker was responsible for designing the major upgrades to this inactive dairy farm. Inactive since 1961, only one of the structures was serviceable. The largest barn isto be redesigned to accommodate affinage caves for making cheese, and has been equipped with solar panelling along with other outbuildings that were to be part of the organic farm's daily operations.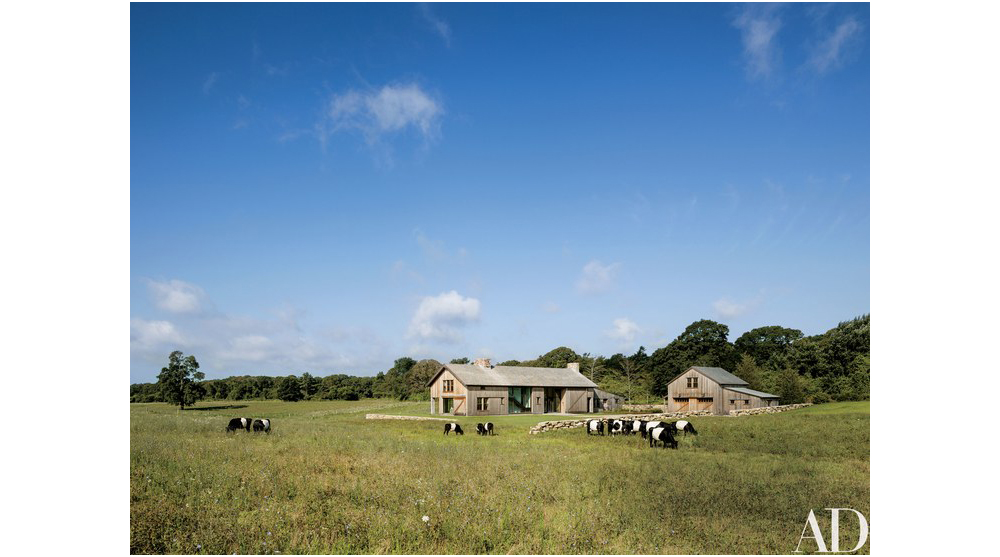 Image courtesy of Architectural Digest
The old wood residence on the property was not suitable for the new owners - a family of four - to live in, and so Hutker proposed a long, low dwelling that would mirror the contours of some of the new buildings. He created a structure with an old barn impression, retrofitted as a residence, with a large steel-and-glass entrance at the south end of the property that included a vast picture window that allows the owners views over their herd of 30 Dutch belted cows.
18th Century Barn, Yorkshire, UK
Snook Architects created a modern home from a dilapidated 18th century barn in Yorkshire. Cat Hill Barn, as it is known, was originally built as an agricultural shed, and had stood abandoned for years on the brink of ruin, after the previous owner's inserted a truss structure that was too weak to support the roof, resulting in the outer walls bending under the pressure.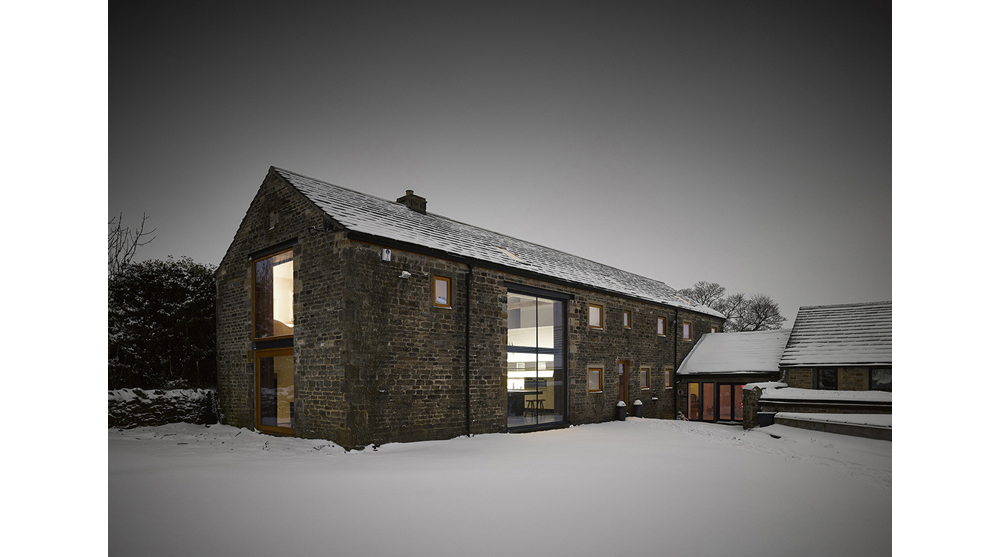 Photography is by Andy Haslam
The British architectural studio was tasked with rebuilding the internal structure and the roof of the barn, and removing a floor to transform the space into a two-storey family home.
"Structurally the building was in a worse state than we first anticipated," architect Neil Dawson told Dezeen. "As well as removing the entire roof, which frankly was on the verge of collapse, we ended up having to secure all external walls by means of a steel structural frame that is located within the existing masonry."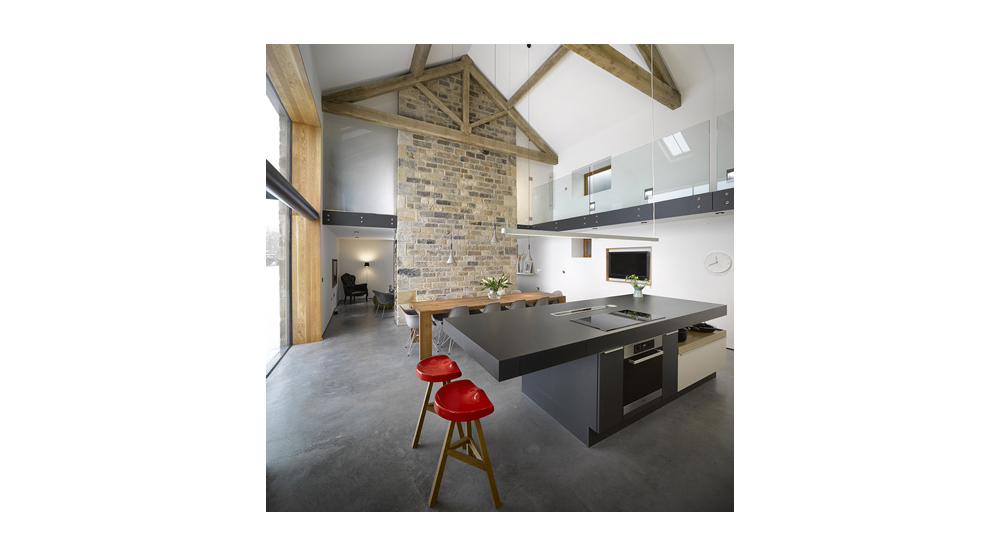 Photography is by Andy Haslam
Snook Architects replaced the existing roof structure with a system of pegged oak trusses that are revealed in the double-height kitchen and dining room at the centre of the building.
Relocated 200-year-old barn conversion
Sourced in a frozen field in Ontario Canada, this more than 200 year-old barn was in near-perfect condition, with massive hand-hewn oak beams, posts and purlins that were all mortised, tenoned and pegged.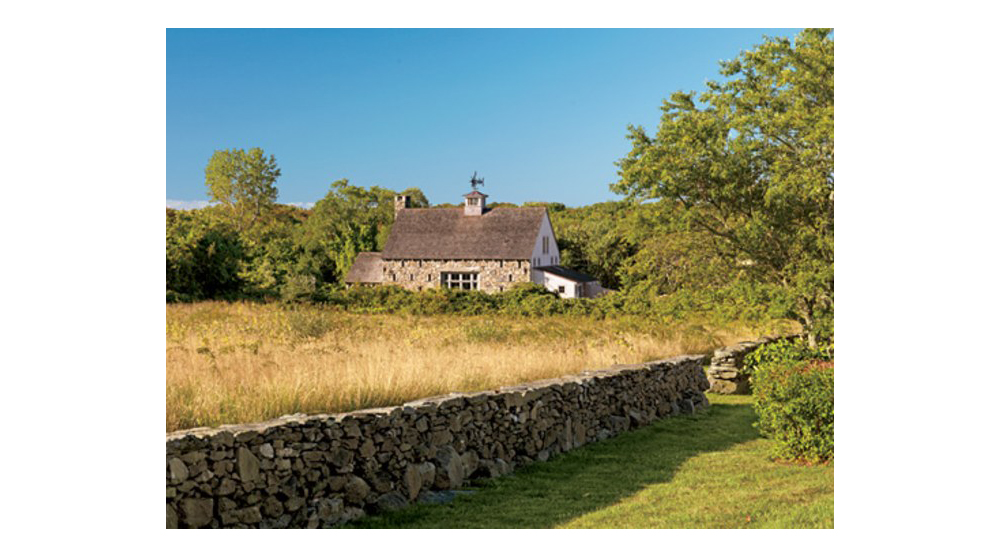 Photography by Richard Mandelkorn
It was 200-plus years old and in near-perfect condition—the massive hand-hewn oak beams, posts and purlins were all strengthened, tenoned and pegged. The dimensions suited the new owner's' plans perfectly, and so the barn frame was dismantled and transported to their property in Rhode Island. There it was reconstructed and made more compatible with other old barns in the area by adding a facade of local stone. A cupola was also added, to bring light into the open, soaring interior, and topped off with a weathervane of a bronze stylized mermaid created by the owners.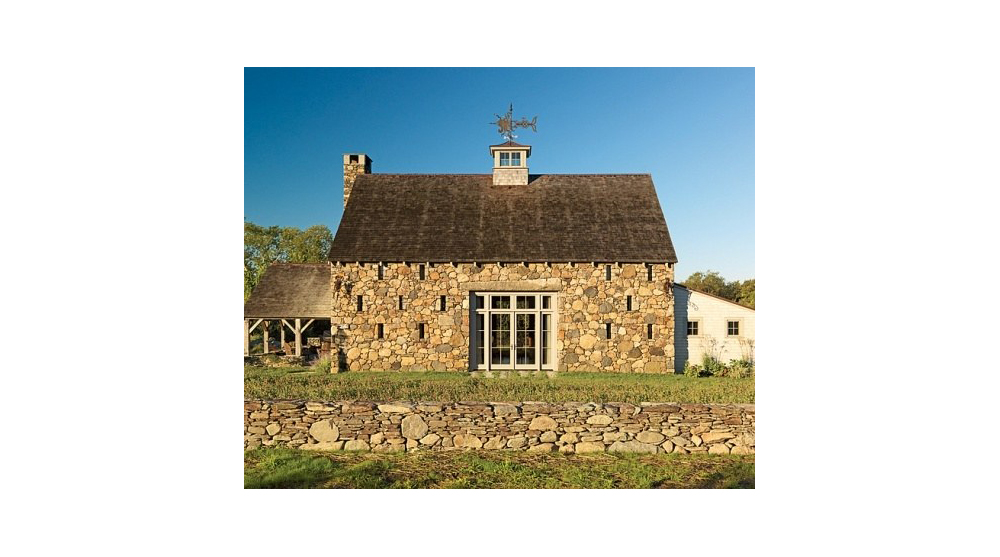 Photography by Richard Mandelkorn
During construction, as many "green materials" were used as possible, including unmilled oak trees to fashion the outdoor dining room's arbor, handmade non-toxic milk paint for the vertical- plank interior walls, and energy-efficient concrete for the floors in the first storey. The owner's then personalised the newly poured concrete with pounds of sea glass and abalone shell that they had collected, along with chips of mirror and mother-of-pearl.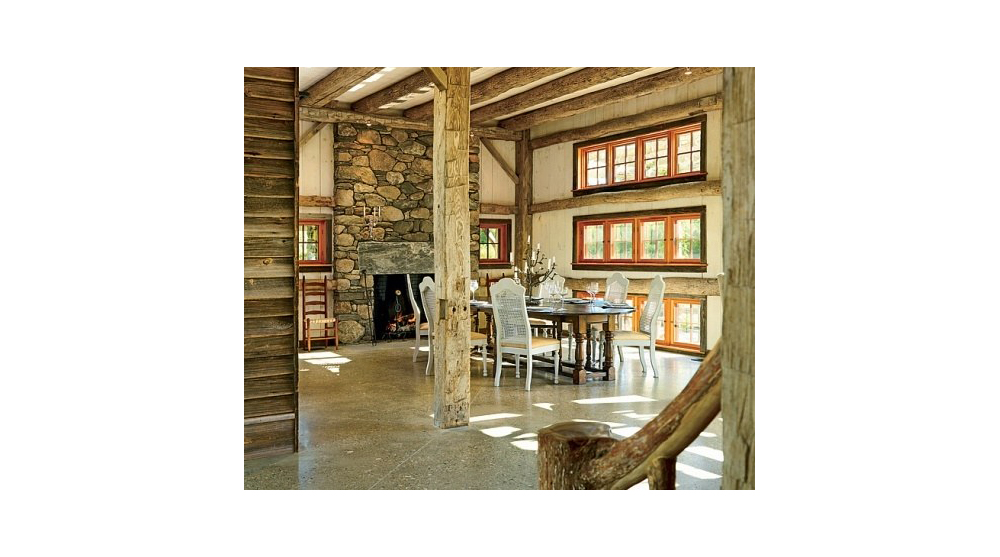 Photography by Richard Mandelkorn
The barn is rich in architectural elements from the time period, such as: 18th century Pennsylvania- parana pine doors with cutouts in them known as hex signs; assorted other 18th-century doors all with their original blue paint and fittings; wooden arms, fragments of Mexican santos, wired for use as sconces; and an antique iron gate pressed into service as the outdoor dining table. Both the frame and stone floor of the covered side terrace were once part of a nearby 18th-century structure that the owners also bought.
The Stone Barn Meditation Camp architecture competition is a partnership with SRED property developers to create a multipurpose recreational space. Participants are tasked with presenting ideas for a venue which focuses on wellness tourism, and offers holistic outlets such as meditation and yoga.
The Stone Barn Meditation Camp will act as a guest house, located in a repurposed stone barn in the heart of Latvia, with the aim of further popularising ecotourism. As one of the greenest countries in Europe Latvia already benefits from a thriving ecotourism trade.