Large and Small Scale Meditation Spaces
Meditation spaces can be grand scale designs, incorporating complex, multipurpose spatial, lighting and other infrastructure solutions. They can also be smaller designs - small wooden constructs that give their visitors a place to sit in quiet contemplation. It's not the size of the space, but the space it provides to relax, focus and meditate.
Large-scale meditation spaces
WINDHOVER CONTEMPLATIVE CENTER BY AIDLIN DARLING DESIGN, STANFORD, CA, UNITED STATES
Aidlin Darling Design has created a spiritual refuge with the Windhover Contemplative Center, located on the campus of Stanford University. Designed to promote and inspire quiet reflection, the center seeks to provide refuge from the intensity of day-to-day life. This 4,000 sq ft rectilinear building features vertical cedar slats and thick walls made of soil excavated from the building site. It is located on a former parking lot site, next to an oak grove, designed to facilitate meditation through art and nature.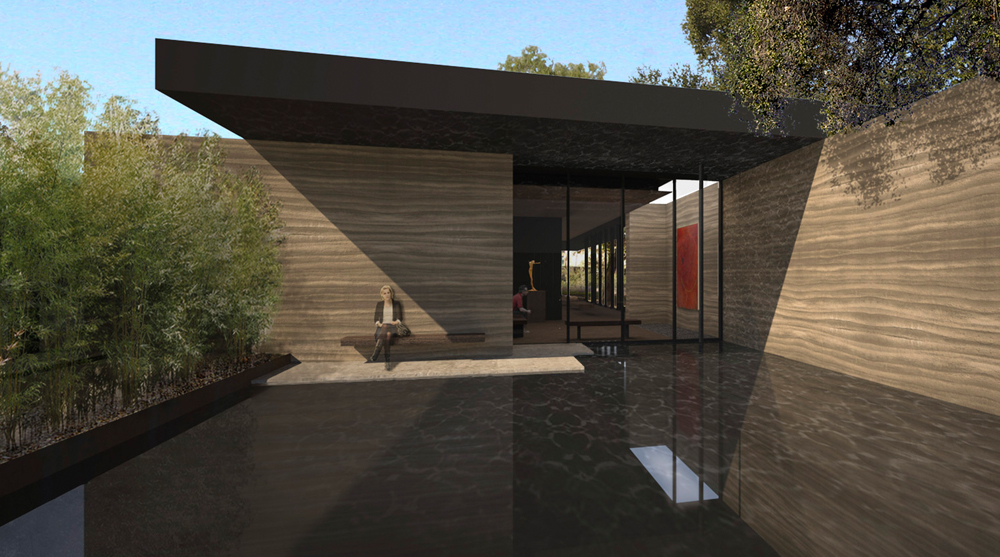 The Windhover Contemplative Center incorporates various elements and water features to enhance a visitor's sensory experience. Image source: Archdaily
The space inside, decorated with Nathan Oliveira's 'Windhover' paintings, gains a lot of natural light that enters this space through louvered skylights. The rammed earth walls, water elements and wood surfaces are incorporated to heighten the acoustic, tactile and visual experiences of a visitor.
"It is intended for quiet reflection throughout the day for any Stanford student, faculty or staff member, as well as for members of the larger community," said Aidlin Darling Design, a San Francisco-based studio founded by Joshua Aidlin and David Darling in 1997.
Meditation Pavilion and Garden by GMAA in Geneva, Switzerland
Created for a private residence in Switzerland by local firm GM Architectes Associés, the Meditation Pavilion and Garden are perfectly aligned from east west, forming a cross, with a rectangular pool positioned from north south, straddling water from bank to bank. This simple, symmetrical structure is surrounded by vertical ash wood slats that create a deck extending over the pool, matching the footprint of the overhanging roof.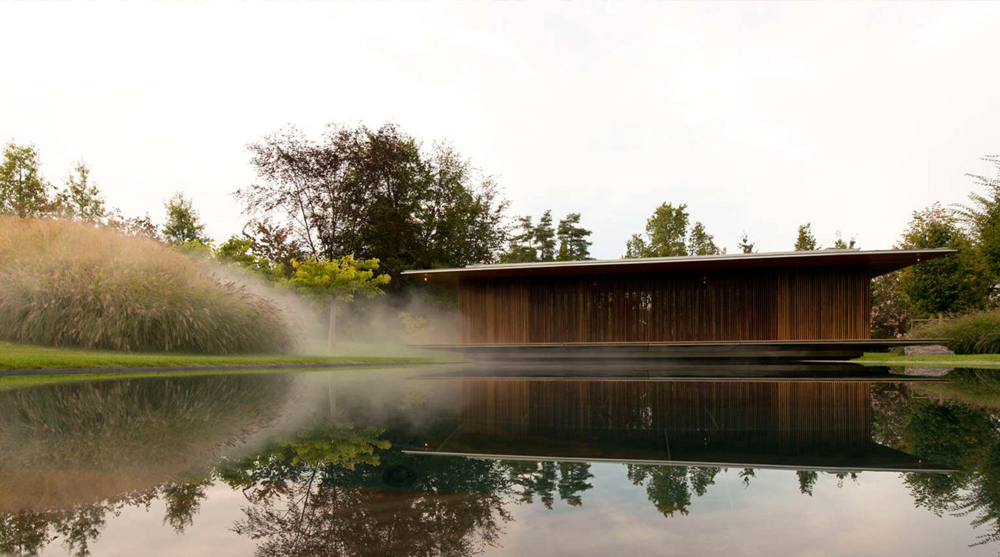 The Meditation Pavilion and Garden follows the seasons, and even integrates a misting system to create a more calming atmosphere. Image source: Inhabitat
There are enclosed spaces on both sides of this building that function as changing rooms and a bathroom at the west end, and a summer kitchen and a storage space at the east end. The architects have integrated a misting system for an even calmer atmosphere and have chosen suspended spotlights that illuminate the deck during nighttime and enhance the effect of the slatted cladding. The space even highlights the changing of the seasons, with deciduous plants specifically chosen to surround the pavilion.
Small scale meditation architecture
A meditation space doesn't need to be large or grand to have a strong impact. Creating the feeling of peace and tranquility is achievable even in very small locations.
Japanese Garden – Budapest Zoo by PLANT – Atelier Peter Kis, Budapest, Hungary
Designed by Plant - Atelier Peter Kis, this Japanese Garden was built from the debris of the Budapest Zoo and surrounding buildings that had remained after World War II. Originally used as an open-air theatre, the idea of a Japanese garden with a garden-library, was conceived back in 1958. After almost 10 years of preparations, the former stage-area was put under grass, the relief was formed, and the paths restored. It has gone through several stages of construction over the years, introducing Japanese agriculture not indigenous to the area, with seeds being donated from the Hokkaido Ohasi Botanical Garden, the Aritaki Arboretum and the Nippon Shinyaci Botanical Research Institute of Kyoto.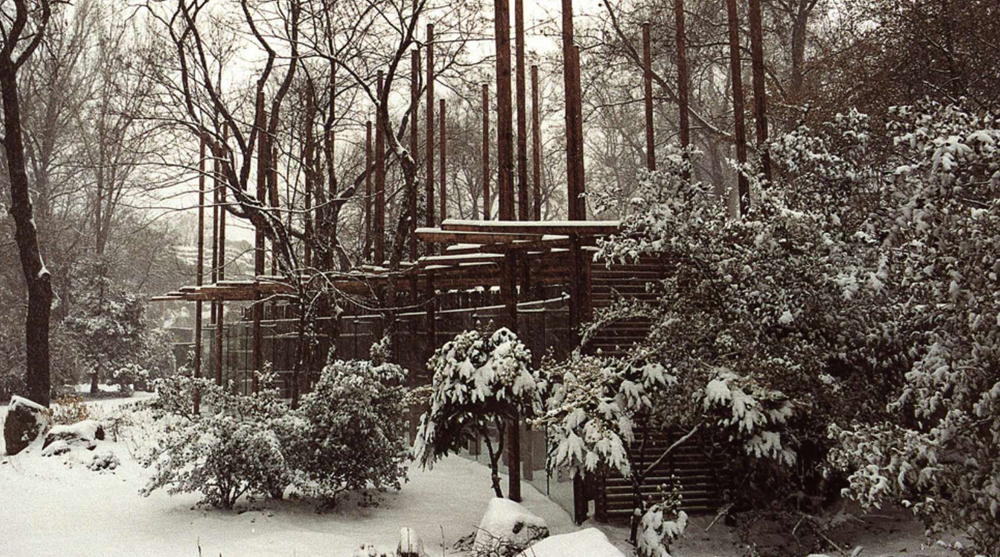 Created on the World War II remains of the Budapest Zoo, this Japanese garden seeks to remain authentic to Japanese traditions. Image source: Architizer
Though said to be designed in respect to authentic Japanese traditions, the structure consists of a frameless, curved glass wall that rests between wooden posts, giving the bonsai protection from incautious visitors and providing an ephemeral space for solitude and reflection.
Mobile meditation pavilion by Giovanni Wegher stands on a lake shore in northern Italy
Milanese architect Giovanni Wegher has designed this smaller scale, timber slatted pavilion with the intention of touring Italy's largest national park and providing a space for contemplation. The pavilion - named Riondolo - is only seven square metres large in total, with a height of five metres, making it suitable for just a few people at a time.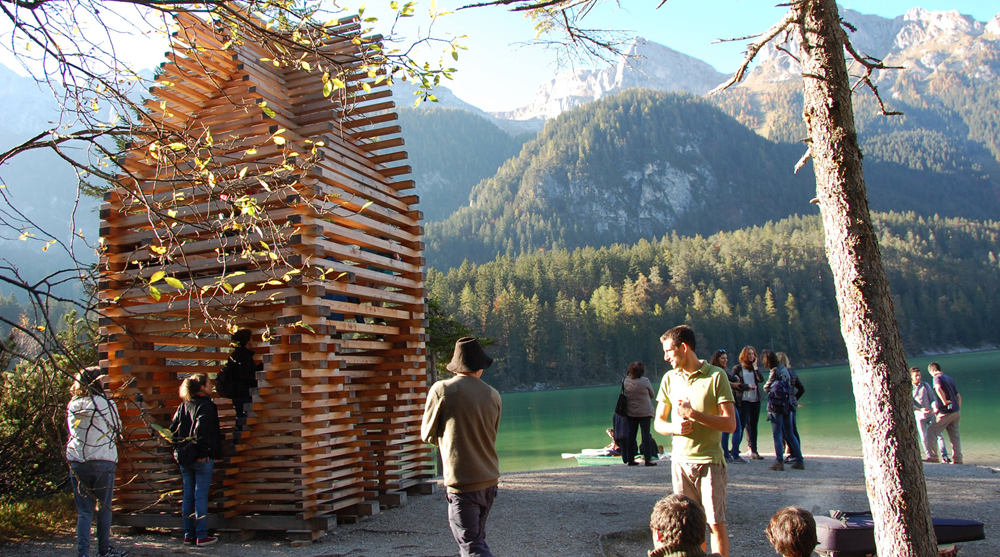 With a capacity for only a few visitors at a time, this mobile meditation space can be easily disassembled and relocated to take in any of the park's breathtaking views. Image source: dezeen
Designed to be assembled and disassembled with ease, the pavilion's mobile nature allows it not to have just one set site. Made from stacked timber batons that create slatted apertures to frame the view of the park's stunning scenery, the hexagon layout incorporates wooden benches inside to allow visitors to perch below a small skylight, which opens the pavilion to the elements.
"Riondolo is the search of man for a more sincere and less deceptive contact with nature," said Wegher."The aim is to lead the visitor to a moment of introspection in an isolated place, away from the usual everyday life."