Affordable Housing Architecture
The term 'affordable housing' conjures images of fortress-like blocks and rows of depressing, grey, box-like houses. But with the high-end luxury living becoming less popular by the day, a new model for affordable housing has emerged. One of privately developed homes and apartments that are well-designed, well-built and attractive enough to win over even the most conservative of neighbours.
1180 Fourth Street, San Francisco, USA
This mixed-use housing development occupies an entire city block in the fast-progressing, new, urban Mission Bay neighbourhood in San Francisco, an area which was primarily occupied by rail yards, warehouses and parking lots. Developed to house low-income and previously homeless families, 1180 Fourth Street was designed by architecture firms Mithun-Solomon, Kennerly Architecture and Planning and Full Circle Architects.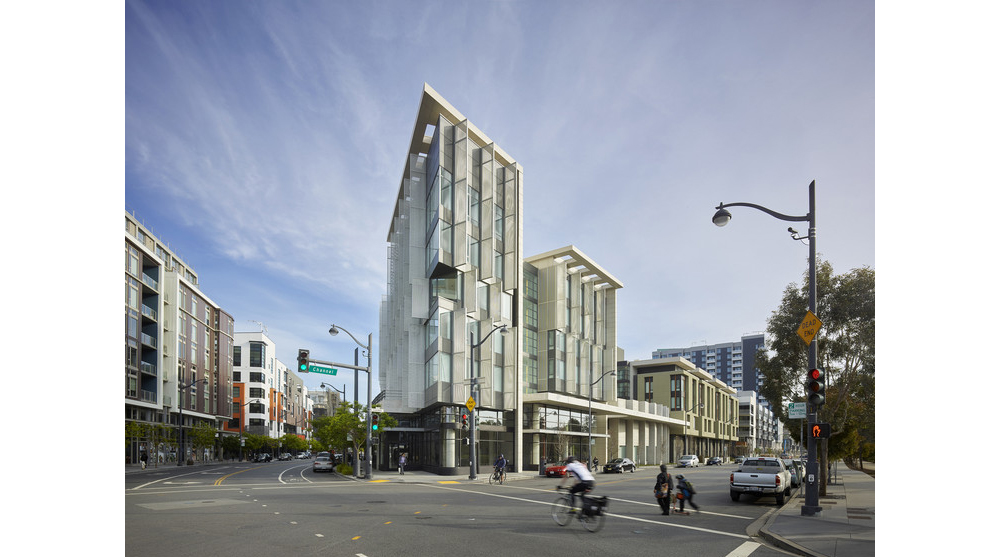 1180 Fourth Street - Affordable housing in a developing area of San Francisco, with communal areas and a vibrant exterior. Image source
The concept for the development foresaw that the design team breaks up the six-storey building and places an emphasis on various common spaces, such as courts, lobbies and community rooms. Vertical metal sunshades punctuate the building's sharply-angled prow at the street corner, with different heights and facades are used on the inner and street-facing sides in order to add variety to the look of the neighbourhood. Residents benefit of the common courtyard where they can host barbecues, show movies and use secure playground areas. The whole ensemble has been certified with Green Point Rated 127.
Tetris Apartments,Ljubljana, Slovenia
Designed by the local architecture firm OFIS Architects, the Tetris Apartments in Ljubljana, Slovenia, have been inspired by the classic 1980s computer game of the same name. The zigzag facade of this social housing complex is located on the periphery of a market-rate apartment community that had been developed several years before the project's completion. These apartments feature balconies with openings that are tilted at 30 degrees in order to ensure privacy and eliminate direct scope to and from the adjacent highway and opposite buildings.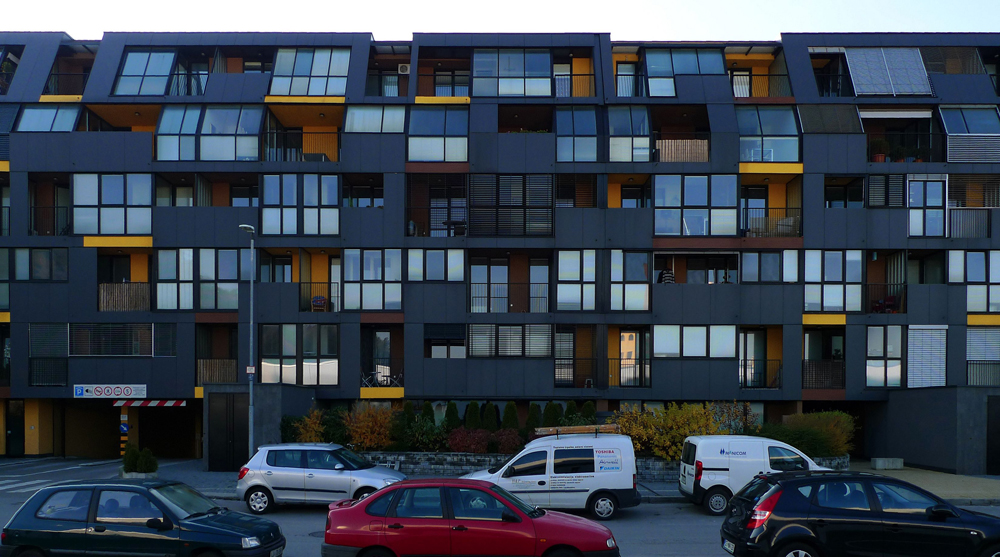 Named after the 1980s video game, Tetris apartments provide affordable housing in a bustling location with tilted balconies to ensure privacy. Image source
The interior walls of each apartment can be moved and rearranged in order to suit the occupants' needs.
Monterrey Incremental Housing Units, Santa Catarina, Mexico
Chilean architecture firm ELEMENTAL has designed a 70-unit development in Santa Catarina which would allow low-income families better access to the property market. According to the firm, the cheapest options of housing offered in the Mexican market cost $30,000, an amount that many families would not be able to afford. This improved version of the Iquique's Quinta Monroy project involves ground-floor "casas" topped by duplex apartments with an initial cost of $20,000, but that can be brought to a "middle-income standard" after self-build expansions.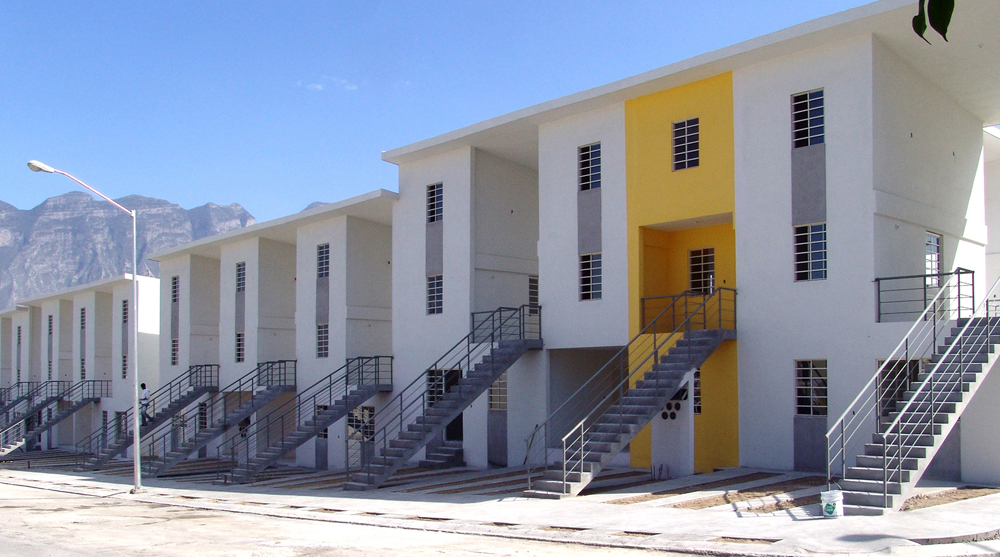 ELEMENTAL's Monterrey housing allows owners to expand without overcrowding, thus keeping the costs low. Image source
"The efficiency in land use without overcrowding allowed us to purchase land in a neighborhood where the average cost of land is $50,000 dollars. We expect the families to benefit from this value gain and the close proximity of different services and opportunities."
10x10 Low-Cost Housing Project, Cape Town, South Africa
Adapted from the award-winning sandbag construction method, Cape Town's MMA Architects designed the 10x10 Low-Cost Housing Project which won them the Curry Stone Design Prize in 2008. This project consisted of ten of these sandbag units built to house former shack dwellers in Freedom Park on the outskirts of Cape Town.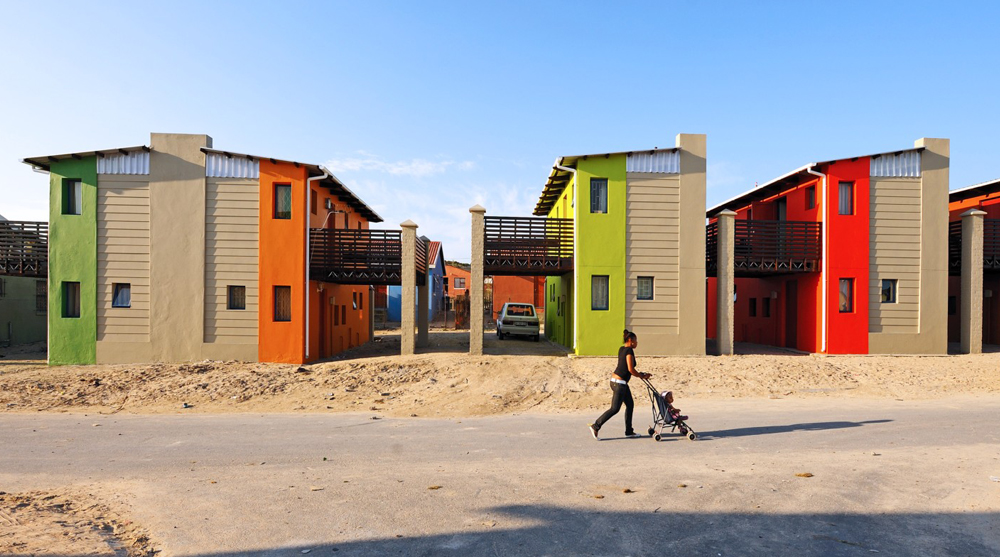 MMA's community-built housing required only basic equipment and no electric tools to construct. Image source
These colourful homes provide a clean, safe housing, and were constructed by the community themselves, using basic construction techniques and no electric tools. Even the sand for the sandbags was collected locally, providing an affordable and community-constructed housing initiative that they could be proud of.